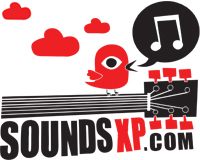 HOME
REVIEWS
albums
singles/downloads
gigs
demos
NEWS
INTERVIEWS
FREE MP3s
STREAMED MUSIC
MUSIC VIDEOS
FORUM
LINKS
ABOUT US
CONTACT US
SEARCH
- RSS Feed
SoundsXP Presents
On Our iPod
Latest Forum Posts
The Next Soiree
- replies (3)
The new movie thread
- replies (200)
Wild Smiles Southampton Thurs 29 Jan
- replies (2)
Tarting up the site
- replies (4)
A classic a day
- replies (2433)
New Material By Bands We Like
- replies (17)
R.I.P. Cherry Wainer
- replies (4)
Gigs of the year 2014
- replies (4)
Spam
- replies (64)
A Cover Version A day
- replies (363)
GHXST




Black Camaro

Club The Mammoth/ Tip Top Recordings

Article written by Ged M - Aug 18, 2012

GHXST are a New York hipster noise trio - Shelley X, Chris Wild and Nathan La Guerra – clearly influenced by Royal Trux and Sonic Youth. The slurred delivery, metallic riffs and general scuzzrock attitude of their latest single 'Black Camaro' take you back to the highwater mark of 90s grunge, while 'Doomgirl' is Sabbath-channelling alt.rock. The single we were sent includes the more experimental No Rest for the Wicked EP; the guitar washes on 'Bad Blood' remind you of early Sonic Youth while 'Deth Valley' is a monstrously distorted stompy blues beat and 'Devil Between Us' a wind-tunnel booming horror movie soundtrack that casts a cold shadow. This is retro and stylish but should come with a warning that it's only available in midnight black.